Jan 30, 2006, 02:05am EST
My friend Doug was telling me how he hates all drop down boxes found in web pages and would rather see sites using autocomplete style input boxes instead. So, during last night's SuperHappyDevHouse, I wrote a greasemonkey script to automatically do this conversion.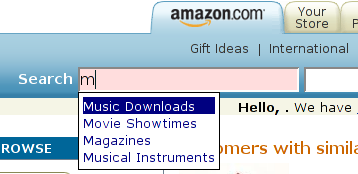 re-input is a user script that looks for <select> tags on a page and replaces them with autocompleting text input boxes. I'm using a slightly modified version of Gadgetopia's AutoSuggest to do the suggestions.
It colors all the input boxes that it creates so it's obvious to you what's been modified. It also tries to stop the form from being submitted if you enter an invalid menu option. Unfortunately, it's not able to stop javascript form submission (form.submit()), so it doesn't always work. You can go to UPS.com to see it's brokenness.