Spell check script
Apr 24, 2005, 05:48pm EDT
A long time ago I wrote a real time spell checker in javascript. I was fixing up the script to make it a bit more efficient and I thought, hmm, why not make it into a greasemonkey user script?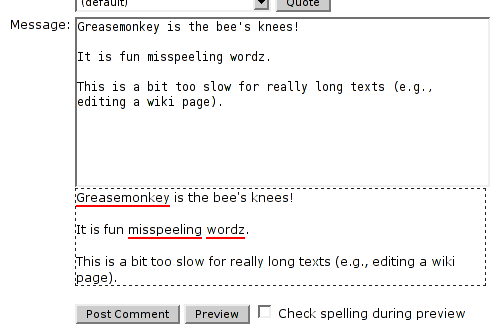 Spelling corrections are received from Google using the web API.
For this script to work, you need to do the following:
Get a web api key from http://api.google.com/createkey. You may need to create a Google account (you automatically have one if you have a Gmail account).
Make the user script aware of your key.

In Firefox, go to about:config
Right click and select New -> String from the menu.
You'll be prompted for the preference name. Enter greasemonkey.scriptvals.gm/spellcheck.googlekey
Next you'll be prompted for a value. Enter the api key that you received.
Update: Just follow the instructions below any textarea.
If a key is not properly installed, you should see a message in the javascript console. The script should attach itself to any textarea area as soon as it receives focus.
Update: This requires greasemonkey 0.3.x to work.

reply