I <3 greasemonkey
Mar 28, 2005, 11:34pm EST
On the greasemonkey mailing list, Aaron released a new version of greasemonkey with XMLHttpRequest support. [Update: now official] With this in hand, I was able to go back and update the annotate google user script.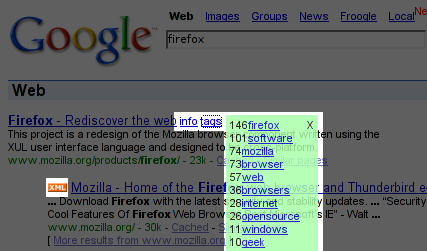 After checking with Joshua, rather than having the script automatically grab tags for each search results (and hammer del.icio.us), the script now adds links. When you click on 'tags', it makes a request to del.icio.us and shows you the tags.
Like before, the script also adds an XML icon if the site has an RSS or Atom feed.
In related news, Evan wrote an unembed user script which solves my earlier problem.